Q: What the heck does GENMAXX mean?
A: Genmaxx is derived from two words: Genma, my favorite character from the Anime series Ranma 1/2 and my favorite j-pop musical group MAX. Don't ask me where the extra X came from. I won't answer. :P
Q: What constitutes Genmaxx?
A: Realism / Menthol smokes / Booze / Sex / Queer sense of humor / Love / Therapy by music / (In)sanity / Write / Blah / Listen
Q: What are you into?
A: Hella lot! Music (everything from R&B to rock, classical to house), Video games, the Net, Anime, et cetera
Q: Karaoke?
A: Count me in y'all!!!
Q: How do I get to contact you?
A: You can send me e-mail via genmaxx@yahoo.com. If you are sending spam, forget it!

My peeps:
Contact Me
Sunday, January 25, 2004
Hours of sleep: 5
Cigarettes: not a lot
Alcohol Units: zero
Got lots happening to me in the recent days. Been busy kicking manager prat @ work (and some) I haven't had the time to meet with friends and have fun with them or something.

Me? Volunteer?

Yeah. It's quite odd but I have been doing volunteering for a few months now. I am a part of a non-profit organization catering to the needs of half-japanese children. It's inspiring drawing strength from other people and learning from their experiences. We get to meet every Saturday and do a bit of counselling and stuff like that . I get to meet some volunteers from different parts of the world and while I may have hated to say this before, I realize now that it feels so good to do something meaningful and worthwhile.

Diana Karazon

Anybody here watched World Idol? While the show sucked in a lot of ways, I liked the showcase of different singing talents. It was shown a few weeks ago but I am going nuts with Diana Karazon! She's this Pan-Arabian idol and she sings like an angel! I'm not much into Arabian music in general but her voice is so enchanting and she makes me wanna bellydance! Too bad I can't find her CD here but I have downloaded some of her songs. Woohoo! Click on the pic below to visit her site.

My Manager's Arse
It's been nigh two months since I returned to my previous work as a Nihongo interpreter (in an automo' company) - and I have never realized this before but it can get um, well, exciting. I just got assigned to a newly formed department and the manager, a young, lanky man with a penchant for being too critical with somebody's work is trying too hard to tell me who's boss. Everybody thinks he's an asshole but I think he's just a big boy trying to play tyrant shit. Some of my friends tell me I have some sorta problem dealing with authority and unfortunately for my new superior, he reckons so too. Ha ha! I have a sheer passion and focus for this kind of work and he hates it! So much so that he tries to overburden me with nonsensical paperwork and some shit that goes far off my job description. Boo hoo for him, I can't be his slave and he can't ever ever fire me. I guess he's jealous I'm paid just a few bucks less than he is. :)

Oh well, tomorrow's the start of a new working week. I got some shout-outs by the way.

PS Friends - Hey guys! I miss y'all! Reggolb has just been promoted. Congratulations, man! Nylre the Hottah Mommah: I miss the way you laugh your guts out, gurl! Naria: Gimik! Gimik! Bhing: If you're reading this, I wanna say I miss ya alot and I also miss my blanket.
My Twin and Sarah: Hope the weekend goes fine, guys. :)
Phoebe: Sorry gurl, was just too busy the past week I can't find time to finish the manuscript.
Ghe: Karaoke battle!!! Ha ha ha!

God bless ya guys!!!


Posted at 10:01 pm by
genmaxx
Thursday, January 01, 2004
Hours of sleep: 5
Cigarettes: hella lot!
Alcohol Units: 2 vodka cruisers (by far)
Musique du jour: "Me, Myself And I" by Beyoncé
Wow! 2004 is here! A lot of stuff happened to me for the pastr 12 months. I hope '04 is a positive year for all of us. I haven't visited my blog for quite a while. Thanks for all the people who left their messages (and greetings) on the board. I got nothing awe-inspiring to say but just wanna post some of my thoughts about the past year. :)
Thoughts about...
Family: It does my heart good that I am finally rejuvenating my good relationship with them. For the longest time, I have been um, well, secretive about all the sh*t that's happened to me. Opening up to them proved that they still are the best thing for me and my sanity.
Friends: I met some really amazing people this year - especially my PS oficemates. Blog friends continure to grow (an while I meet y'all online, I appreciate the good stuff you shared with me). Old friends are never better. This has been quite the drama year for me and I thank all those people who were there for me through good and bad times. I can't wait for the next partay!
Work: Life is too short to spend on something I don't entirely like. I'm back in doing interpretation jobs full-time now FYI. At least with this, I can go back to rejuvenating my social life.
Lovelife: Probably becoming more and more of a cliché for me. Ha ha!
Sex: My maturity towards sex is growing better and better... and I am thankful. I am not OC about this sh*t no more.
Dreams: Priorities notwithstanding, I have decided to take some steps in reaching it. Ohhh yessss!!!
Opportunities: I got lots and I won't waste time sitting my ass doing nothing about 'em. I gotta grab 'em while they're hot!
HAPPY NEW YEAR Y'ALL! I wish everybody much love and happiness this '04.
Posted at 11:33 pm by
genmaxx
Saturday, December 13, 2003
Hours of sleep: 3
Cigarettes: not counted
Alcohol Units: 0
Musique du jour: "Powerless" by Nelly Furtado
Is there something about the 13th day of the month and I thought of going back here? Ha ha! I don't have much to say here... well.... lemme see... (ahem... excuse the expletives...)

"My thoughts exactly..."

Well, I'm back from sickness --back to my old villainous ways! Bwa ha ha!

Contrary to what other people might be thinking (emphasis on "might"), I am a busy ho and while I am outta work in PS, I'm good... yeah! (I have an old score to settle with... I got a deeper love than just money, ya fucks! And while I doubt that you guys are reading this, I just wanna say from the bottom of my heart... FUCK Y'ALL! Ha ha!!!)

I have been in a lotta shit since I got out of my work and sickness but hell do I love the people who cared for me!

Speaking of which, I found it uncanny (but good) to hear from my old friends again. Reunited with some old enemies. Hah!

Bills are still the greatest fucking migraine-inducing shit so far...

I am already on my way to following the road to my dream... will be giving y'all updates about that. But for all my friends, wish me luck and I'm sure to kick majah azz!!!

And oh yeah, have I told you, my body allows me to do acrobatic sex already! Ha ha!!!

Posted at 03:15 am by
genmaxx
Wednesday, November 19, 2003
Sanatorium Newly Renovated
Hours of sleep: 7
Cigarettes: Still recuperating from sickness so I just had less than a pack
Alcohol Units: This I need to avoid for at least a week
Apparently, I've done some makeover to my blog. I also figured the linkback to my friends' sites is nowehere near pleasing... so I made some photoshop sh** to make the links look nicer! It's like a tribute to them. He he! Doing these stuff means one thing: recuperation is boring me a whole lot! Ha ha! Still, in my rather long sabbatical, I was still able to pull off some things -- good and bad. Enough of that! To business...
Ten things I realized while recuperating from sickness.
1. Being sick sucks (Well at least, if you're working!)
2. Worrying about the bills can definitely give me so much psychic strain! As much as I would want to work and earn moolah, my doctor made me realize killing myself at work is not a fabulous way to die.
3. Good thing I still have another job I can do at home... but I still worry about the bills nonetheless...
4. Not only does my work suffer for all these sh**, I ALSO HAD TO RESORT TO NON-ACROBATIC SEX!
5. It does my heart good to know that there are friends willing to cheer you up when you're down.
6. Booze intake when you're damn sick sounds Quentin Tarantino -- I did that and then the meaning of "Pulp Fiction" struck my skull.
7. The bliss in being bedridden can only be achieved in one day... I realized that since I was able to finish a PS2 RPG in less than 24 hours!
8. There is more to the Net than just Friendster!
9. It's nice to spend some quality time with your family... even during this rather unfortunate circumstance. I haven't noticed that my nephews are starting to enter the world of puberty.
10. No, nothing more. Sorry, I thought there were 10.
To my friends: Hey peeps! I'm doing fine! And it's not chlamydia for cyring out loud!
To blog friends (esp. Starsky03 and Saphfire): Hello, you two! Thanks for the concern! :)

And oh yeah, I think "Kill Bill" is cool... gore and anime-like bloodbath notwithstanding.

Posted at 04:45 am by
genmaxx
Saturday, November 08, 2003
The Perfect Drug (On Search Of It)
What's the haps?
All Saints Day / First of November
I was just a kid when my father died and it's already been 17 years since. I have precious few recollection of him but if there's one thing for certain, he had great love for me and my folks. He was known for being the hardworking, amicable, people person who had such a positive outlook in life that I wish I have even half of. When he passed away, it was quite a struggle for my mother, raising me and my siblings and trying to keep everything from falling apart. I guess that we were blessed that after all these years, we are still going on strong and proud to be survivors in our own right. :)
November 1 is the time of the year when my family, my relatives and I go and visit my father's grave together. I admit I don't visit his grave as much as I imagined I should but I wanted to keep it solemn. I prayed for him the moment I stepped before his grave. Of course I know how to pray but I'm not too accustomed to praying for myself. I usually pray for the people I love. Pessimism notwithstanding, I think they deserve it more than I do.
Probably with the number of folks who visit his grave every year this day that the first of November becomes (not inadvertently, though) a reunion of sorts. When we went home, it was the usual karaoke battle (times like these I wish my father could witness how much of a diva I became! ha ha!)-- no alcohol, just clean fun. We wanted to make this a reminder of all the good stuff my father had. I guess he himself would have wanted us to reunite with a positive light. :)
Is ya sick?
Yea, WAS I SICK! Been feeling ill for the past week and it feels depressing! Imagine yourself puking your guts out for F***ING THREE STRAIGHT DAYS! I had to file a week-long leave from work (both jobs, mind you). I miss the people-bashing, the abnormally late lunch and cig breaks and I badly miss my work friends! :( It was quite a dilemma being sick because as much as I wanted to earn a little moolah for working, my doctor told me I have to prevent myself from killing myself for working sick (or at least, die of too much puking). My mind is suffering the most out of this kodak moment, I think *sigh*. I am so ready to go back to my workstation this Sunday! Let's get it on!
Dayshift (Or dayshit?)
One of the more interesting things about my work is that we change schedules quarterly. Currently, I was assigned the 4pm to 1am shift. At first, I thought this is the worst sched ever. I am just glad that it wasn't even half as bad as I thought, especially since, the people I work with during this ungodly shift are such cool peeps -- especially my homegirl, Naria! Too bad, workforce had to transfer her to a much earlier schedule. Damn, who am I going to spend my lunch breaks with!? Hwaahhh!!!!!
Bills, Bills, Bills (They suck, by the way)
Are you paying the household bills? If you are, then I think you are feeling me right now. If not yet, I say: enjoy it while it lasts. If not EVER, well, y'all are a bunch of lucky sonuva--!!! Ha ha ha!
Just pouring my thoughts, is all...
Shout Outs...
To Naria and Nylre: Thanks for the concern! Love you both!

To my twin, Starsky03: I miss you so bad, gurl! I can't wait to hear from you again. Love ya lots and I do appreciate the concern. I'm okay now.
To my big brother: No matter how f***ed up I am, you try to keep my sanity. Thanks for the foot-long hotdog sandwich just now! He he!
And oh yeah, I do miss my blog friends! Kisses to y'all! Peace out!
Posted at 01:07 am by
genmaxx
Thursday, October 23, 2003
Hours of sleep: 5
Cigarettes: 12
Alcohol Units: 0
Phentermines: Becoming more like a progressive bariatric surgery
I am now feeling better. Good... since I have been bombarded with migraines (which I affectionately call psychic blasts) for the past few days. I am also now sobered up. Enough of the dysmenorrhea litanies for this month and start posting something positive here. I personally am getting progressively sick of all the rantings and bitchings I post in my blog. It's had to convince my friends (and myself) that I actually am, well, happy. Ha ha ha! Besides, I got a lot of things to be thankful for

An academy award moment... and my IOU's to 'em

* I thank my new computer for making my life easier for me. I thank my firewall for always warning me that there's an asshole trying to get into my system.
My IOU to my new computer: I'll adorn you with the most fabulous Wonder Woman theme!
* I thank the office workforce for FINALLY giving me a weekend off for at least three months. I couldn't say I'm totally thankful since my new shift ends at 1 a.m. Now the neighbors will confirm that I am actually working as a pimp.
My IOU to workforce: Enjoy my fridays and saturdays to the fullest.

* I thank some of my friends (there's 3 of you) for being there for me when I was sick. Thanks a lot for the "Get well soon" shit you've been sending me... and also for the unexpected gifts. Now, I'm back again as a super-villain.
My IOU to those friends: Bottles of vodka cruisers. My treat!
* I thank my mum for reminding me 37 times to pay the utility bills for this month. Thanks so much for teaching me how to condition my brain to develop a nigh-photographic memory of all the things I need to pay. I feel like a responsible human being. On top of that, thanks for always making me feel loved -- bills notwithstanding.
My IOU to my mum: Make certain you won't be getting calls for unpaid bills.

* I thank my sister for lending me money to pay for my credit card. Children, I know it's a bad habit to borrow money to pay your debts.
My IOU to my sister: Pay back the money I loaned from you as soon as I can... and oh yeah, vodka cruisers to you, too! :)
* I thank my old friend for trying to make me forget about my ex. You might have realized it by now but you are making me fall for you. And it's delicious, but bad. Now, I reckon I am more vulnerable than ever. What the heck! I can hardly wait for our next meeting. :P
My IOU to him: Mind-blowing sex! Ha ha ha!
* I thank my mood CD's and my portable CD player for being my constant companion... no matter what my emotions are.
My IOU to my mood CD's: With the power vested in my CD-burner, you will be multiplied... exponentially.
My IOU to my CD player: I'll find time to wash your casing. (Washing courtesy of the maid)
To all of you...

Makoto ni arigatou...
Posted at 02:57 am by
genmaxx
Tuesday, October 21, 2003
Dysmenorrhea Litanies part deux
Hours of sleep: After reading this, you'll get an idea
Cigarettes: less than a pack tho'
Alcohol Units: 2 vodka cruisers after an operation!
Phentermines: Currently on sabbatical from anorectics
Random thoughts...
Felt like migraine is showing me who's boss this time. I guess too much phentermine intake clouds off the effects of ibuprofen and mefenamics in my system. Now, let's see if I could see if there's liquid novocaine in my medicine cabinet.
The title of this entry is "Dysmeorrhea Litanies Part Deux" but I can never have dysmenorrhea... ever. But, I know how it feels mentally. Now, I'm in the mood for some vanilla ice cream.
When you are single, is it really a requisite to have a love life? I find it progressively exhausting already to discuss more about it with people. I finally decided to talk about sex with my mum.
I have very little patience with "singers" who can't really sing. Sorry, Britney fans, but I am not buying her new CD... even if she has Madonna up her sleeve.
Politics is a real pain in the ass -- and that's only watching it on TV! Don't get me wrong, I find it entertaining sometimes. It's like watching a soap -- only the villains are in multitude.
I still can't find a Jocelyn Brown CD! I'm obsessed with her!!! Kazaa nor IMesh can't even quench my thirst for powerful singers!
Credit cards? Shopping bliss until you get the billing statement. Defined either as a sleek decoration or a delicious temptation inside the wallet.
Pop-ups on the Net: while they f***ing annoy me, I reckon this is not unlike all the commercials you see on TV -- and I enjoy watching commercials! I guess the Internet made me a very impatient person. ("Congratulations! You are the 50,000th person who visited this site! Click here to claim your prize!" I hope there's a program I can use to send a "Fuck Off" note to these people. AND YES, I have a friggin' pop-up killer in my PC.)


Blogs like these sometimes serve as my catharsis for my mental dysmenorrhea. Two weeks later -- when I'm all sobered up, I realize I'm bitching too much. And while I may not be diagnosed with OCB, I know I have occasional ADHD.

Sarcasm (and being a walking reality check) notwithstanding, I am a happy person. This is my own twisted way of expressing my happiness. I Think I better go find me a nice anaesthetic or something equally potent.

This blog entry is brought to you by... my favorite author of all time... Banana Yoshimoto, Gen-X surrealist extraordinaire. Read her books (of course, there are english versions of her books). On my stash are Lizard, NP, Amrita, Goodbye Tsugumi, Asleep and Kitchen. He he!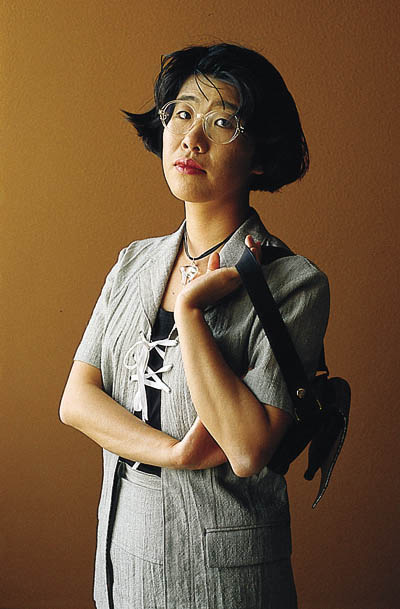 Posted at 03:28 am by
genmaxx
Monday, October 13, 2003
Wha! The Dead CAN TALK?!!!
Hours of sleep: 6
Cigarettes: 5
Alcohol Units: just 2 bottles of vodka cruiser (about to get one on lunch break! Drunk @ work! Ha ha!)
Phentermines: 0 (I'm sorry, mum, I've been eating again!!!)
I know this is a "Night Of The Living Dead"-esque moment but yes... I AM BACK!!! After aeons of hibernation, I'm now back on the board! I miss posting something here but more than that, I miss my fellow blog friends! I wanna hollah: WASSSSSSUUUPPPP??!!!
Today's not a totally inspiring day for me... I have been going crazy recently... No, I'm not out of control... just yet... I think this is just a coping mechanism for all the shit I've gone thru for the past few weeks... Need psychic conditioning... I guess... Anyway, just wanna share with you some stuff

What's the haps?
1. I'm back to my old job as a Japanese Interpreter! Yayy! What's even better is that I don't need to quit my present job! Lovely!!!
2. I am OBSESSED with Jocelyn Brown! I have been wanting her CD entitled "The Hits" and I have gone through branches of Tower records to look for it, but it's a no go. I totally regret not having bought it when I had the chance. It was very disappointing, so I instead...
3. Visited my favorite comic book shop and bought me 3 graphic novels of Xtreme X-men. Quite costly, I think I spent like, $90 for all 3! I have been collecting X-men since I was a pup and quit when I was in college. Ahh... nostalgia feels good sometimes!

4. I've been sick lately, have been puking for the past few days now and I think this is the karma coin for embracing the powers of the wonder drug Phentermine. Phentermines are supposed to suppress my appetite, not make me barf, but I don't see any other reasons for such. I paused the usage for a bit. Phentermine is the wonder drug for me. He he!
5. To all my close friends: This is a "teehee" moment for me. I have already fulfilled "New Year's Resolution" numbers 3 and 5. Yayy!!

UNspectacular huh? He he! Well, that's what I can recall of the week that was. I hope I can update my blog more often now.

Peace out, y'all!

Posted at 04:16 am by
genmaxx
Friday, September 26, 2003
Genmaxx Had A Romantic Coelacanth
Hours of sleep: an awe-inspiring 2 and a half
Cigarettes: 2 zillion
Alcohol Units: 2
Sex life: Resurrected (Behold the Phoenix)

I am feeling a wee-bit like Khalil Gibran right now I decided to post in some of my poetry and share with you my delectable romanticism. These are poetry that I want to dedicate to people I hold a high degree of importance in my life.


A Poem For My Mum
your love: spells my name
your achievement: my existence
your joy: the sight of my smile
your dream: witness my triumph
my karma: pay the utility bills

A Poem For A Former Lover
Why did you have to deceive me?
Why did you have to make me cry?
Why did you have to leave?

Probably it was me who made you lie...
Probably it was me who made you my heartbreaker...
Probably it was me who opened the door for you to leave

Now in my lonesome, I ponder...
Probably it was me...

Nah, it wasn't me, you horny sleazeball!
Now, fuck off!

A Poem For A New Love
How heavenly it is
Embrace me in my sweet surrender

Warm blood rush to our heads
Savor a nigh-metaphysical experience

Juices flow from your body
Like a fountain to quench my insatiable thirst

Explore my body with your mouth
Send me to a nirvana of flowing electricity

I beg you to a halt, "Stop... stop..."
"Stop nibbling on my cellulites"

A Love Poem For Somebody I Abhor
My love for you brought me to a serene forest
And before my eyes lies a tree,
Where some had hanged themselves for love,
I hope you are one of them

A Poem For Myself
Solitude is the grand festivity
Where I invite myself
To partake on "importance,"
To drink "subtle narcissism"
And write stupid blog entries like this
Posted at 04:39 am by
genmaxx
Thursday, September 18, 2003
Genmaxx Had A Recondite Lamb
Hours of sleep: Enough for me to have energy to do this entry at 5AM
Alcohol Units: 1
Cigarettes: 28
Phentermine: 1
The profundity of some people can be laughable. Here are some of the quotes about love and life (and what comes in between) that I read from
quotations.com
and what I really think of 'em. Not for the faint-hearted...
Alan Watts:
"Never pretend to a love which you do not actually feel, for love is not ours to command."
Genmaxx:
I think he should talk that way about libido instead of love.
Edna St. Vincent Millay (1892 - 1950):
"It's not true that life is one damn thing after another; it is one damn thing over and over."
Genmaxx's version:
"Same shit, different day"
Herm Albright (1876 - 1944):
"A positive attitude may not solve all your problems, but it will annoy enough people to make it worth the effort."
Genmaxx:
Man, do I love this quote! Let the people call you an asshole (for being positive) and you call them jealous! Ha ha!
Japanese Proverb:
"When the character of a man is not clear to you, look at his friends."
Genmaxx:
If that is true, then all my friends are working as bitching
mama-sans
in strip clubs!
Anonymous:
"Life is a sexually transmitted disease."
Genmaxx:
While my life may be considered as one big porno flick, I never treated life like gonorrhea.
Lynda Berry:
"Love is an exploding cigar we willingly smoke."
Genmaxx:
Whoa! I love this quote! Almost phallic, huh! In return, I say: "Love for me is like giving head. After each performance, I either swallow it in or spit it out."
Christina Baldwin:
"Change is the constant, the signal for rebirth, the egg of the phoenix."
Genmaxx:
As a realist, I have 2 things to say about this quote: 1) this is way too corny; and 2) I don't think I'll ever be a phoenix if I decided to wear sequined gowns @ work for a change.
William James (1842 - 1910):
"The greatest discovery of my generation is that a human being can alter his life by altering his attitudes of mind."
Genmaxx:
"The greatest discovery of my generation (the now) is that a human being can alter his life by altering others' attitudes of mind."
Zeno:
"The goal of life is living in agreement with nature."
Genmaxx:
This is definitely HIS own personal goal in life.
Dorothy Parker (1893 - 1967):
"Oh, life is a glorious cycle of song, A medley of extemporanea; And love is a thing that can never go wrong; And I am Marie of Roumania."
Genmaxx:
Oh my! I thought of the same exact thing before having read this quote, only in my own version, I was Halle Berry.
Isaac Asimov (1920 - 1992):
"Life is pleasant. Death is peaceful. It's the transition that's troublesome."
Genmaxx:
Is this guy the one who authored several robot books? If he is, then I get his point.
Nelson Mandela:
"There is nothing like returning to a place that remains unchanged to find the ways in which you yourself have altered."
Genmaxx:
I have yet to see the validity of this quote on me.
John Barrymore:
"Love is the delightful interval between meeting a beautiful girl and discovering that she looks like a haddock."
Genmaxx:
I think that people with reality check have a better chance of deciding whether to love a person or not.
John Sheffield:
"'Tis the most tender part of love, each other to forgive."
Genmaxx:
"Sorry dear, but that shit don't work on me anymore!"
Lois McMaster Bujold:
"When you give each other everything, it becomes an even trade. Each wins all."
Genmaxx:
I think she has not heard of "pre-nuptial agreement".
Jerome K. Jerome:
"It is always the best policy to speak the truth--unless, of course, you are an exceptionally good liar."
Genmaxx:
I think this is the mantra for all defense attorneys out there.
Robert Heinlein:
"The supreme irony of life is that hardly anyone gets out of it alive."
Genmaxx:
Humor is good, even depressing ones like this.
Woody Harrelson:
"Life is full of misery, loneliness, and suffering - and it's all over much too soon."
Genmaxx:
I reckon he listens to Donna Summer. Woohoo!!!
Just my opinion...
Posted at 06:43 am by
genmaxx